Today, almost every business is focusing on developing a mobile application to improve its market presence and capitalize on the market. The newcomers and even the established businesses are often unsure about mobile app development cost. 
Actually, there's no universal formula to define the mobile app development cost according to different user flows, budgets, business goals, app features, and design language. The development approach and geographical approach can also be determining factors for mobile app development costs. This guide will help you determine the mobile app development cost for your next application. 
Estimating the Mobile App Development Cost
A wide estimation says that it takes somewhere between $5,000 and $50,000 to develop a fully-functional mobile application. This price depends on numerous factors like business functionality, design, etc. Furthermore, there are different types of approaches such as Native app development, Hybrid app development, and cross-platform, which might further determine the price. 
Let's Understand the Talent Required to Develop a Mobile Application First 
Any mobile application development project consists of multiple professionals that work towards a common goal. Hiring your own development team might prove to be an expensive affair instead of outsourcing the project from a mobile application development company. However, any dedicated or extended team will consist of; 
Mobile App Developers
The developers are the core professionals who will be building the application from scratch. In fact, you might need dedicated front end and back end developers to transform your app concept into a reality. 
Business Analyst or Project Manager
They will be responsible to manage the tasks associated with the development process to ensure timely delivery. 
UI/UX Designers
These professionals will be required to determine the look and feel of the application. Without their input, you cannot make the application interactive and user-friendly. Above all, they will work on the project layout, prototyping, and completing the design of the application. 
Solution Architect
These professionals have to design the overall architecture of the application's backend components.
Quality Assurance Engineers
These professionals will run rigorous test cases to check the integrity of the application and ensure that every functionality is working without any error.
Now, you have to add their salaries or payments into the budget of the cost of app development. Therefore, the individual work hours greatly contribute to your total application cost. 
There could be massive cost differences in the development cost depending on the size of the team.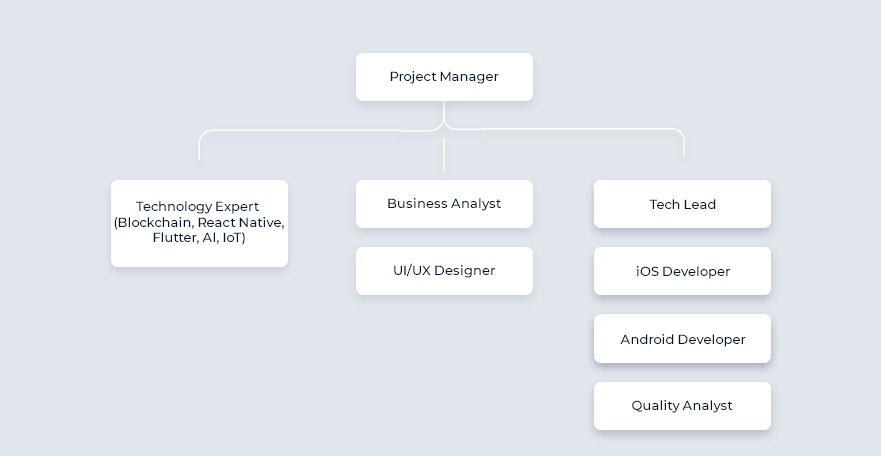 Factors that Determine the Final Mobile App Development Cost 
There are always some questions like how much does it cost to develop a mobile application? Or which features exactly impact the cost of the final product. Let's unveil; 
The Ideation Process of the Application
Before even thinking about the development process of the mobile application, you must get a clear idea of what your application will exactly do. This would give you a close insight into the app development timeline and other important factors. 
There are different stages in the ideation process that might include competitor analysis, understanding the customer persona, and determining the market capitalization of the app idea. 
The mobile app development companies often help businesses in discovering their competitors, customer persona, and market capitalization of applications. They often follow a design sprint that helps in validating the idea. 
Starting by Understanding the Market
We have to start by understanding the need of the market to validate an app idea. This would include learning about the competitors, unexplored opportunities, loopholes, or sudden demand in the market. Ultimately, this knowledge would help you determine the exact features to be implemented in your mobile application. 
Realizing the Customer Persona
Understanding the user base of an application is also important to satisfy the demands and preferences. Each user demographics will have different preferences for the features and UI/UX of an application. Thus, it would help you to define the perfect customer base if you understand their persona better. 
Capitalizing on the Current Market
Market capitalizing is all about the growth and market share of an application. You have to carefully analyze how much value and worth your application idea will provide to the end-users. The higher the worth, the higher revenue it would generate for your business. For example; if your application doesn't solve any problem, then it won't be attracting users. The ideation process is the most critical part of determining the mobile application development cost. 
Estimated Time Taken in the Ideation Process: 40 to 80 hours 
Defining the Technical Infrastructure
This is the technical process where you have to create proper documentation to define the technical infrastructure of the application. Furthermore, you have to define the features, purpose, and technology that your application will be using. 
Define the Complexity of the Application 
This is the most important step to defining the technical infrastructure of the application. You have  You have to note down the number of features that you would like to include in your app. The mobile development cost could be severely affected by the following features; 
An Admin Panel
App owners can use an admin panel for managing the entire application from one single place. Operations like activity tracking, monitoring stats, and updating content could be done from this panel without the requirement of a developer. 
The Deployment Architecture Model
This feature would use the backend to record user information on the application and provide useful insights to the end-user. If you want to develop the backend for your application, you will have two options; custom backend development or Backend as a Service (BaaS). The custom approach is more expensive but provides customized features. In contrast, the BaaS provides a ready-made backend architecture at affordable prices. 
Integrating Third-Party Integrations

 
There might be some scenarios where your application might need to interact with other apps. For example, your app might request Facebook or Google login. Integrating popular payment gateways also comes under third-party integrations. Such additional integration might increase the mobile app development cost. 
Using Device's Hardware Capabilities
Today's smartphones are fully equipped with tons of hardware components such as Bluetooth, GPS, Wifi, Gyroscopes, biometric scanners, Barometers, etc. Above all, modern apps often take full advantage of these hardware capabilities to provide amazing features. 
The app complexity and mobile app development cost would increase if you are trying to take advantage of all these hardware capabilities. We can further categorize the apps into categories to determine their development cost; 
Simple Applications
These applications have basic features with standard UI of Android or iOS operating systems. Usually, a template is used for creating the backend with basic analytics functionalities. Startups and small enterprises often develop small applications for simple use cases. 
Estimated Development Time: 600 to 900 hours 
Medium Level Applications
These applications are mainstream applications with multiple APIs, custom UI, a proper backend, and real-time messaging. In fact, the mid-level applications are complex enough to suffice the needs of mainstream users and businesses. 
Estimated Development Time: 900 to 1600 hours 
Complicated Applications
These advanced applications comprise customs APIs, complex backend, custom animations, real-time data synching, and complex databases. Usually, large enterprises prefer building such complex applications for their advanced use cases. 
Estimated Development Time: 1600 hours or more 
Defining the Application Category 
The total mobile app development cost greatly depends on its category. In fact, there could be a lot of factors in each category like the number of users, security protocols, functionalities, etc. These factors could significantly influence the cost of mobile applications. Let's categorize applications into different categories; 
Independent Applications
These applications are not dependent on a network or any particular device feature. Development costs are often lower for such apps and they don't cost data to the users. Thus, they are a straightforward solution for both users and businesses.
Estimated Development Time: 600 – 900 hours 
Social Media Applications
These applications are meant for social interaction among users. Thus, there could be a huge user base using a single application. A social media application requires tight integration with other applications on the device. 
It should be easily able to access the camera, user location, real-time sync and also allow in-app purchases. Building a social media application requires heavy investment because it has to provide services to millions of users/
Estimated Development Time: 1800 – 2600 hours 
On-Demand Applications 
These applications connect the users, the service provider, and the businesses. They have to suffice the immediate demands of the consumers. Thus, the workflow and UI are very different from traditional applications. 
This might increase the mobile app development cost depending on the additional functionalities. Moreover, if an on-demand application needs to have real-time location tracking, chat support, push notifications, payment integrations, and real-time sync, then the mobile development cost will also increase. UberEats, FoodPanda, and OLA are some great examples of on-demand applications. 
Estimated Development Time: 2000 hours or more 
Enterprise Mobile Applications
These mobile applications are very different from any mainstream application. They have to have to be very precise and have specific use cases. In fact, global enterprises provide these applications to their employees for effective communication and other processes. Therefore, security and reliability are the most important factors when developing enterprise mobile applications. 
The efforts and costs are significantly higher during the development of enterprise mobile applications. Thus, the development process requires experts in mobile app development. 
Defining UI/UX of the Application
The design and the user experience are two significant factors in defining the success of an application. In today's technology forward world, you cannot miss out on the design and the user experience. Thus, you will have to choose from two options; either you can go with a Standard UI or a Custom UI. 
A custom UI has much better visual elements but costs more to design for the mobile application. Plus, it takes a good design expert to implement the custom UI perfectly. Thus, let's talk about the different components of UI/UX design; 
The Wireframing Process
Before starting the designing process, you have to define the user experience map and the features with the help of wireframing. Accordingly, you might have to consider tools such as Photoshop, MARVEL, or Balsamic. 
Take a closer study of the wireframe to finalize the final application flow and design. Wireframing will also increase the total mobile app development cost by a small margin. 
Designing the UI
The designing process is a complex process of selecting the right UI elements for individual platforms. If you are developing your application for both iOS and Android, then the cost and time would be much higher to design the User Interface. In fact, both iOS and Android follow different design languages. 

Implementing Animations
Smooth animations have become an integral part of modern applications and games. Designing your own customized animations could increase the mobile app development cost by a great margin. However, beautiful animations improve the look and feel of the applications.
Estimated time of the design process: 150 to 400 hours 
Defining the Platform for the Application
There are tons of platforms and different development approaches to develop a mobile application. Thus, these platforms and approaches could also determine the mobile app development cost. Ultimately, you are required to choose the most relevant platform; 
Native Application Development 
Developing native applications provide a more authentic and refined experience to the users. However, the mobile app development cost might increase if you take the native approach. Furthermore, it is a more time-consuming process since you have to develop applications for individual platforms. 
Developing native Android applications will be more expensive because you have to test the application on multiple devices with different hardware capabilities. In fact, Android has a huge diversity when it comes to types of devices. For example; An mobile android application might not work perfectly on an Android TV. 
Native iOS application development is relatively easy because there is a limited number of iOS devices with the same version of the OS. Furthermore, for iOS application development, you will need expertise with Swift and Objective C. Whereas, Android app development is done with the help of Java and Kotlin. 
Estimated Development Cost: $20,000 to $100,000
Web Application Development
Developing PWA or other web apps might be a sensible approach if you are running on a budget. These apps are most cost-effective than developing native applications. However, they might not provide the same experience. 
Estimated Development Cost: $15,000 to $30,000
Cross-Platform Application Development
This could be a cost-effective approach if you are planning to develop iOS and Android applications at the same time. Above all, in this approach, the development team will need to work on a single code base which could significantly reduce the efforts in mobile app development. You can hire a mobile app development company for cross-platform application development. They would make a better decision between Flutter and React Native for the development. 
Estimated Development Cost: $5,000 to $100,000
Flutter App Development
Developed by Google and released in May 2017, Flutter is an amazing development kit for providing a completely native experience in the applications. It is a very innovative and stable platform for application development. However, the Dart language used in Flutter is still relatively new in the market. Thus, the mobile app development cost might increase with Flutter since there are fewer skilled Flutter developers in the market.  
Estimated Development Cost: $15,000 to $40,000
React Native Application Development

React Native started in 2015 and has become the industry choice for cross-platform app development. Even the leading businesses have chosen this framework to develop Android and iOS applications simultaneously. Furthermore, React Native application development is a more cost-effective approach than Flutter. 
Estimated Development Cost: $12,000 to $50,000
Hybrid Application Development

Hybrid applications provide a combination of native and web applications. These applications would behave like native applications. However, the actual components of the applications are running on a server. Frameworks like PhoneGap, Ionic, and Sencha Touch are popularly used for Hybrid app development. 
Cross-platform native application development has been dominating the market if you want to develop applications for multiple platforms. However, there are still some leading businesses that want to get their applications developed with a Hybrid application development approach. 
Estimated Development Cost: $5,000 to $50,000 
Blockchain Development

Blockchain applications might become the future of mobile applications. This decentralized technology is revolutionizing various industries across the world. However, developing blockchain apps might require higher technical expertise and more development hours. Ultimately, this converts into increased mobile app development costs. Businesses today focus on NFT marketplace development to comply with the future of Web3.0 and ensure complete digital transformation. 
To get started with blockchain development, you have to choose from two platforms; either you can go with the permissioned or public platform. There are different use cases for each of the platforms. A permissioned platform might cost you higher because it provides an advanced level of security. Blockchain development could provide you with the entry to completely new business domains. 
Estimated Development Cost: $30,000 to $180,000
Deployment of the Application

 
There are specific guidelines in both Google PlayStore and Apple AppStore that must be fulfilled while deploying an application. There could be some scenarios when your application might get rejected by the application stores. Therefore, your development team must create a proper checklist of the guidelines of the individual store while deploying the application. 
Proper management of the checklist could significantly bring down the mobile app development cost. You have to pay a one-time charge of $25 if you are publishing the app on the Google PlayStore. In contrast, Apple charges $99 per year to let you publish your application. 
Maintenance of the Application 
Beware! The expenses of developing a mobile application won't end after deploying the application on an application store. You have to provide constant maintenance support if you want to retain the users of your applications. Furthermore, every business should adapt itself according to the various market trends. 
Updating the Application

The devices and operating systems are continuously upgrading over the years. Thus, you can not keep the same version running for ages, You have to update the application according to the changing UI and functionalities. Thus, this would add additional cost to the total mobile app development cost. 
Fixing App Bugs

You might have conducted strict and rigorous testing while developing your mobile application. However, there might some bugs which might get discovered later. Thus, you will need to look out and fix those bugs with updates. 
Changing Design Elements

The design language of mobile applications changes from time to time. Businesses want to keep the design of their application updated with constant efforts. This means that you might have to hire UI/UX designers from time to time. 
To get a fair idea about the app maintenance cost, we can say that the yearly cost would be around 20% of the total mobile app development cost. 
Reusing the Code to Reduce the Mobile App Development Costs
Many businesses consider reusing the code of an existing app to reduce the time and effort spent in the mobile app development process. This would reduce the total mobile app development cost by just changing the branding of the application. However, this approach is not recommended by expert mobile app developers. 
Business Specialization 
The total mobile app development cost is also dependent on the geographical location and domain of the business. There are usually three types of businesses; 
Small companies 

Specialist companies 

Large enterprises 
These companies have different business and scaling goals. Plus, the total cost also depends on the type of service they are providing. In any case, hiring a mobile app development company gives them more flexibility in the development process, reduces overhead costs, and ensures perfection. Above all, the professionals from a mobile app development company can fill the skill gaps in an organization and perfectly execute the development process without additional costs. 
The location to develop the mobile application can also greatly determine the mobile app development cost. The average development rate in the US is around $100- $150 per hour, while this cost is significantly lower in eastern European countries where they charge $40 to $60 per hour. Thus, hiring a remote team from a different country could be a great strategy to reduce the mobile app development cost. A mobile app development company can help you learn about the cost to hire mobile app developers.
 Estimated Figures for Mobile App Development Cost
| | | | |
| --- | --- | --- | --- |
| | Cost for Single Platform | Time Required  | Example  |
| Simple Application Development  | $4,000 to $50,000 | 2-3 Months  | Calculators, notepads, to-do list |
| Basic Application Development  | $50,000 to $150,000 | 3-6 Months  | Starbucks App  |
| Complex Applications  | $150,000 and above | 9 months and above | Instagram, Uber  |
Let's Look at Some Stats to Get a Better Idea 
According to Clutch, the minimum mobile app development cost is between $5,000 to $10,000. 

Based on a survey conducted by Clutch, the median mobile app development falls somewhere between $25,275 and $114,300 for iOS application development. 

Research by VDC says it takes $140,000 for developing an enterprise application.

According to Clutch, the total cost of developing a mobile application could even reach $500,000 if the complexity of the functionalities increases. 

According to an Out systems survey, over 80% of mobile applications take over three months to develop, while over 40% of applications might take over six months. 
Collaborating with MobileCoderz for the Best Mobile App Development Cost 
If you have decided to finally start developing your mobile application, then MobileCoderz can get the development done at affordable prices and provide world-class mobile app development services. We develop future-ready mobile applications with high performance, security, reliability, and stunning user experience. Lastly, customer satisfaction is given the highest priority throughout the development process.